You can register for DamageAccess as either:
1. An Originator
2. A Supervisor
Registering as an Originator
Self-register online on the DamageAccess website.
From the login panel, select Register: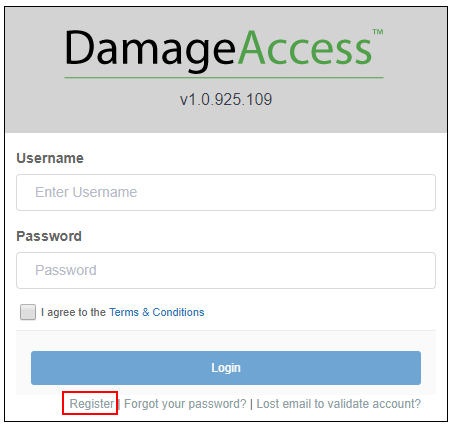 Fill out the form according to the fields below: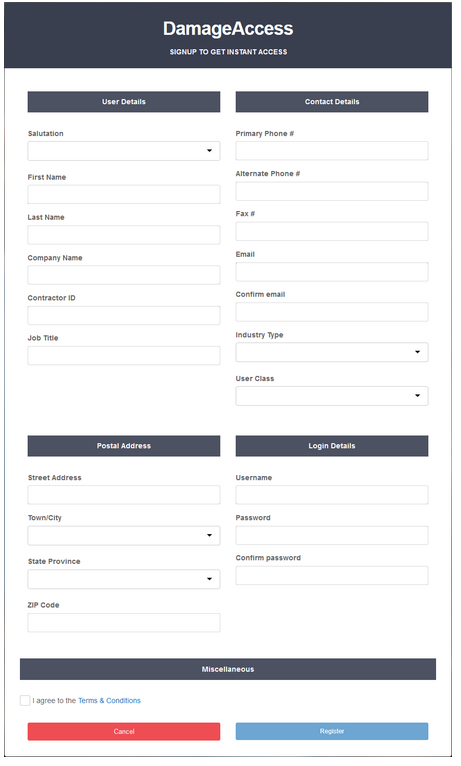 Note: Each user must have their own unique email address. If the email address is already in the system, an error will appear stating "Email is already in use" and you will not be able to register. Please use a different email address or, you have registered in the past, recover your password via the "Forgotten Password" link on the login page.
After filling in your details, agreeing to the Terms & Conditions and clicking Register, you will be sent a confirmation email. Click the validation link in the email. Now, you will be able to log into DamageAccess. When you login, you will be taken to the Dashboard screen.
Registering as a Supervisor
As a Supervisor, you are required to view the damage reports provided to you by Originators and sign-off on the content, before passing it to the Regulator for their review. An Originator can be their own Supervisor, if required, by providing their own contact details in the "Supervisor" section of the report.
If you are a new user, the first time a damage report is assigned to you, you will receive an email which will include a registration link. Follow the Supervisor Registration link in the email notification to log in.
Click here for glossary of terms.